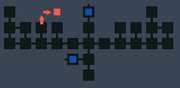 A heart. Is a reference to An Untitled Story.
In Space.
Go left from the Nexus portal. Go up on the second path.
On the screen with 2 tombstones and a pillar, walk around to the back of the pillar, on the right side of it, and walk up. On the next screen move up until you are blocked. Then move right.
Description
Edit
"This heart has no name"
YOU FOUND A HEART JUST FLOATING THERE IN THE SKY