Secret 11 is the Green square, and is the most time-consuming secret to obtain.
Deep Forest Past the rock in the upper right corner of the map. At the end of the road head north.
Requirements
Edit
(In game)
Instructions
Edit
Once you arrive at the location, all that has to be done is stand still. The rabbit in the left corner will inch his way to the right of the screen. It has to reach the other side of the screen in order for both gates to be unlocked, if you make any kind of movement (minus jumping) the rabbit will be moved backwards, towards the left of the screen, so all this is is a waiting game.
The time you must wait is 1:49:20 (nearly 1 hour and 50 minutes). (Confirmed on Jan. 18th, 2019 that the game is still disrespectful of your time. My stopwatch said 1:52:10 at the end.)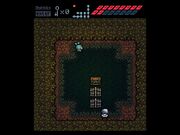 Description
Edit
"It's green."