Finty 
is a salesman located in the
Fields
. He has an assortment of overpriced merchandise that cannot be purchased due to the game not having any means of collecting money.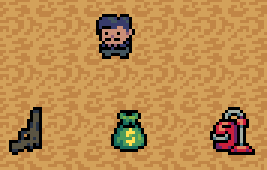 His shop includes a gun for $499.99, a money sack for $869.99, and a vacuum cleaner for $749.99 (or four monthly payments of $199.99).
If Young gives Finty the Cardboard Box, Finty will do one of three things, depending on how the player has currently progressed in the game:
Finty will give you Biking Shoes. Giving these to Mitra will prompt her to trade you for Jump Shoes (in older versions). 
Finty will give you a health refill if you had already acquired the Jump Shoes from Mitra (in older versions).
Finty will trade you for Card 44 (in current version).
The Jump Shoes themselves cannot be acquired from Finty, though Mitra hints that she got the Jump Shoes from Finty's shop.