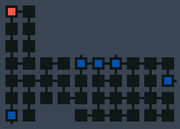 A carved stone.
In DRAWER accessible from the woods.
This card is available only after the last boss.
Use swap to go north in the designated square in the woods (see map). Enter the cave and go up by swapping. Proceed to enter the warp. Follow the path until you find 2 warps. Go in the left one. Go one room down and three rooms right to get to the card.
Description
Edit
"Who carved all of us anyways?"